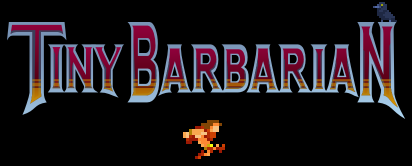 BIG NEWS! A new Tiny Barbarian game draws near... For more information, check out the new Tiny Barbarian DX page!
Note: Although this is a similar game and may give an idea of what Tiny Barbarian DX is like, it is not a demo and has different system requirements. Please do not use it to determine if your system will run Tiny Barbarian DX.
On an frozen battlefield, a love-struck barbarian chases a mysterious woman who does not reciprocate his feelings. Tiny Barbarian is a short, retro-styled action game inspired by the R.E.Howard Conan story, "The Frost Giant's Daughter." It was made in Game Maker by Michael Stearns, with music by Jeff Ball.
Contact: rvr67michael ut gmail dat com
StarQuail Home